The King's Speech is neither the most complex nor the most original film of the year, but this beautiful film stands out in that it requires the audience to have an attention span. The movie follows Prince Albert (Colin Firth), nicknamed Bertie, in Pre-World War II England as he attempts to overcome, or at least cope with, his stammer. His wife Her Royal Highness Elizabeth (Helena Bonham Carter) recruits Australian speech therapist Lionel Logue (Geoffrey Rush) and so begins Bertie's unconventional path to Kinghood and self-acceptance.
Visuals are sometimes self-conscious and even cartoonish, but coloring is used to excellent effect. Lionel encourages Bertie to break away from social constraints, and his space is appropriately off-kilter, while the foreboding, increasingly dark shots of Bertie's surroundings have the effect of a vice. A stunning Colin Firth successfully conveys Bertie's vulnerability, which is made all the more harrowing because of his lack of self-pity. Geoffrey Rush complements Firth's performance and brings his delightful dialog to life as the alternately cheeky and tender Lionel.
Bertie's history of pain and stress is expressed in his body. The mechanical advice of physicians of the day falls flat, as does the advice to merely "relax." Lionel offers a deeper connection, one which will likely inspire numerous viewers who have struggled with feelings of inadequacy and isolation. The film highlights the strict social structure as a source of damaging pressure. Bertie's life has almost no relationship to his struggling subjects, and yet the descriptions of his upbringing are horrifying. Lionel has a content family but, as an Australian, faces frequent prejudice. In spite of its heaviness, the film is quite funny as well. Bertie's dry sense of humor and Lionel's insouciance light up many a scene and amplify the more serious moments.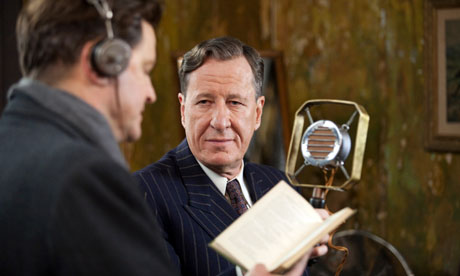 The two most interesting minor characters are Bertie's father King George V (Michael Gambon) and brother David (Guy Pearce), later King Edward VII, both of whom play a major role in Bertie's pathology. Gambon's George is a man with little patience for weakness, and Pearce's David is a silly, unfortunate product of his family.
Helena Bonham Carter does well with a less fleshed-out part. Lionel's wife (played by Jennifer Ehle) may be too perfect, but Lionel's and Bertie's families are portrayed with a light, lovely touch. Winston Churchill (Timothy Spall) is a purely positive and somewhat simplistic figure, and Archbishop Cosmo Lang (Derek Jacobi) is almost pure oiliness. Still, most characters are believable and very much of their time. Even the most progressive characters do not seem to be artificially implanted with modern ideas.
The horrors of World War I quietly hang over the characters, making the impending World War II all the more forboding. This might have been a more powerful film had it focused more on the threat ahead. Whatever the case, the painfully beautiful climax evokes a sense of both tragedy and victory and manages to be simultaneously heartrending and uplifting.
The King's Speech is less a political study than a poignant depiction of the power in treating another like a human being, even a king.