The spies in Tomas Alfredson's artfully crafted adaptation of John Le Carre's 1974 novel Tinker Tailor Soldier Spy toil away in mundane offices. Most of what they type and read is a mystery. When suspicions of a mole arise, former spy George Smiley is called in as suddenly as he was forced to retire. Throughout the film, one wonders not only about the mole's identity but about where these spies' work begins and their emotional lives end.
Though hours shorter than the 1979 BBC adaptation, this version takes its time. The movie, like the book, often forces the audience to read between the lines. Its color scheme is as bleak as the story's Cold War setting, and the camera almost nostalgically observes the drudgery of sorting through physical files and writing with pen and paper. The soundtrack and slower pacing mimic movies of the 1970s, but the cinematography and editing are simultaneously inventive and retro.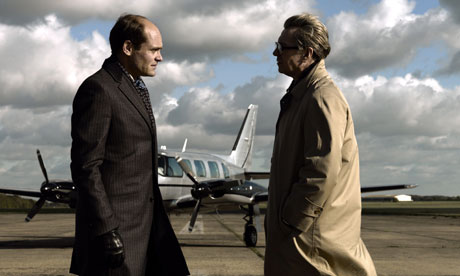 This very believable world is peopled with chilly characters, played by an excellent array of familiar actors. Each is tinged with suspicion and a hint (or more) of amorality. Beneath even the more demonstrative personalities lie opaque motivations. John Hurt plays the paranoid and cantankerous Control, head of the Circus (the ring of top spies). Toby Jones does well as Percy Alleline, an ambitious spy who gets in a power struggle with Control. Toby Esterhase, a Hungarian working for England, is played convincingly by David Dencik, and Colin Firth perfectly fits the charming Roy Bland.
Mark Strong's portrayal of a haunted "Scalphunter" is especially poignant, as is Tom Hardy's disturbed Ricky Tarr. Also memorable are Simon McBurney as the bureaucratic but shrewd British undersecretary and Benedict Cumberbatch, touching as Smiley's young assistant Peter Guillam. Gary Oldman plays our unlikely hero, Smiley. For the first half of the film, he hardly says anything. His dull and humble appearance is impossible to read. But his low voice contains a glimmer of cunning. Gradually Smiley's skills of perception and methodical tactics show results. While unassuming and vulnerable, Smiley is also unnaturally calm, and aware of when to use either sympathy or implacability to get the intelligence he needs.
A few common phrases (such as "bad apple," and "trust no one") pepper the script, but clichés are extremely rare. Don't expect these characters to explain why they sacrifice their relationships and moral codes for a tedious job that is both dangerous and thankless. Some likely appreciate the sordid fruits of their labor; others might relish the gathering of information. The older ones hang onto past glories of World War II. Some may not know.
The plot jumps between characters and time periods. It is not always clear who is looking for what and why. Yet this confusion adds to the complexity that makes up the world of spies and secrets. The story is confusing, but the sense of alienation that lurks behind the Circus's jokes and jaunty boys' club mentality is all too certain.