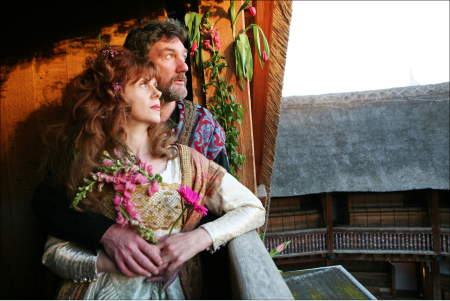 Director Jonathan Munby's none too subtle production of William Shakespeare's A Midsummer Night's Dream' is both enjoyable and energetic. Certainly not an intellectual interpretation, it manages to move and amuse a modern audience nonetheless.
This play melds Shakespeare's interweaving plots successfully, most effectually when they chaotically collide in the woods. One thread follows four young Athenian lovers. Another involves a group of hilariously inept craftsmen who set out to perform a play. The wood is the realm of fairies, and when their king breaks out a floral love potion and looses his wickedly mischievous henchman Puck (Michael Jibson), all plunge into mayhem.
Mike Britton's simple but vivid design is unobtrusive and effective, emphasizing the simultaneously unsettling and entrancing nature of the play's setting. The black background sets off blue curtains that occasionally swell with a natural breeze, magenta flowers jammed into the floor by fairies, and fluttering pink petals. Olly Fox's music is another magical device in Dream. His melodies are a delightful mixture of modern and traditional, lulling and thrilling, accentuating rather than overshadowing the plot.
The eye catching costumes also enhance this production. As the lovers flee and chase each other into the magical forest, they lose their somber garments to reveal golden and green outfits. Fairies wear a purposefully discombobulating ensemble of bright tutus and sneakers. When not playing Duke Theseus and his Amazonian wife-to-be Hippolyta, Tom Mannion and Siobhan Redmond don more colorful garb – and accents – to double as the quarreling fairy king and queen.
The least successful plotline is that of the lovers, who are played unimaginatively, save at times Oliver Boot as a surprisingly humorous Demetrius. Their fight scenes are balletically choreographed, but predictable and without passion.
The relatively dull young aristocrats serve as mere pawns to the more captivating fairies. With animalistic movements, these creatures, except for Puck, spring from beneath the stage. They are at turns tender and frightening, and thanks to excellent timing, their power is never doubted. Jibson is an appropriately energetic and amoral Puck.
The parallel relationships between the "real" rulers (Theseus and Hippolyta) and the fairy monarchs (Oberon and Titania) overshadow the other love stories in Munby's version. Because they are portrayed by the same actors, the discord of one couple reflects the other. The reconciliations within the two pairs are particularly moving and satisfying. When he is not yelling, the regal Mannion is especially effectual, injecting unexpected humor and affection into his two potentially bland roles. His speech on wild thyme is effortlessly beautiful and vaguely sinister.
Last but not least are the amateur actors in the play-within-the-play. Dominated by the egotistical and enthusiastic Nick Bottom (a very funny and unexpectedly subtle Paul Hunter), their earnest theatrical performance before the Duke and his court is hysterically disastrous.
A procession of sleeping mortals concludes this highly comical production. Munby's direction is rarely understated and introduces few original concepts to the play. But however gimmicky, it gives the audience exactly what most who go to the theatre want: entertainment.